Ep 223 – The Co-Founder of Footsteps Bangladesh on Solving Huge World Problems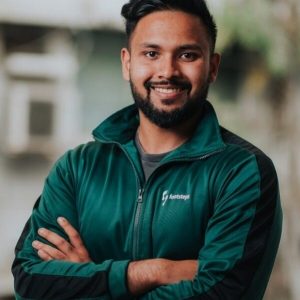 Ep 223 - The Co-Founder of Footsteps Bangladesh on Solving Huge World Problems
When have you turned a failure into a lesson, peers? 
For today's guest it was when he thought he was doing the "right" thing that a major breakthrough arrived. A breakthrough that would change the course of his life and business. In this fascinating episode of Peers2Peers, powered by Shopify, Shah Rafayat Chowdhury, the Co-Founder of Footsteps Bangladesh shares how he created an organisation that's restructuring communities, his journey with experience-based charity work, as well as figuring out how to solve these big world problems.
Shah Rafayat Chowdhury:
While many people around the world need a helping hand, how sustainable is it to help, say, once a year rather than giving communities the tools to empower themselves? 
This question came to a young Shah Rafayat Chowdhury when he Co-Founded Footsteps Bangladesh as a 17-year-old. He organised a blanket drive but quickly noticed people fighting over and hoarding the very thing he was donating. 
This "failure" took him and his Co-Founders back to the drawing board. 
Now, Footsteps Bangladesh works towards building resilient communities by integrating the right set of skills and resources. Through, not only donations but the tools to make these people and communities self-reliant. In this episode of Peers2Peers, powered by Shopify, Shah shares how he began a world-changing business as a teenager, and why you need like-minded people around you. 
Street Cred:
Shah Rafayat Chowdhury is a Co-Founder of Footsteps Bangladesh, an organisation with a mission to design social ventures to help solve many of the world's most challenging issues. Since 2013, Footsteps Bangladesh has acted as a catalyst for hundreds of marginalized communities in helping them overcome their social challenges by building their capacity and potential.Shah was one of 60 global youth leaders chosen by Global Changemakers in 2017, was one of the 16 global young leaders by the European Commission in 2018, and in 2022 was named a Forbes 30 Under 30 alongside his Co-Founder, Mohammad Taqi Yasir.