Ep 117 – Don't Ask A Single Question, Ask A Million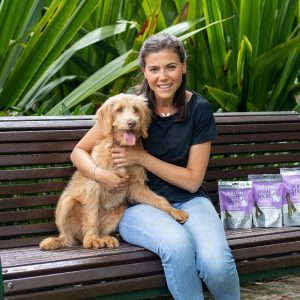 Ep 117 - Don't Ask A Single Question, Ask A Million
Many of us start working unsure of what we want to do, even when we're in it. It's a feeling that rang true for Arianne Sackville when she gained an IBM scholarship that wasn't all that she'd imagined. Like many of us, Arianne is young, hardworking and sharp but that doesn't mean her youth should be wasted in work that does not serve her. While making a segway into the consumer goods sector,  Arianne found her daily joy came from her dog, not her job. It was this clear distinction of happiness that led her to create Bell & Bone: an Australian Dog food company creating healthier, happier dogs. With national success and a recent foray into Asia, Arianne sits down with us to discuss why curiosity is crucial, the importance of finding confidence and how to care for man's (or should be say, woman's) best friend.
Arianne Sackville
Man's best friend is in fact a woman.
Enter: Arianne Sackville, the Founder and Director of Bell & Bone, an Australian made dog food company creating products that help dogs keep happier and healthier lives. Not exactly the job you 'fall' into, which is why Arianne created it herself.
Despite making ground in the consumer goods sectors of General Mills and Mondelez International, Arianne found her happiest moment of the day was returning home, rather than leaving it. The culprit? Her dog.
Realising while her passion lied in food but her heart with dogs, Arianne decided to combine what she did with who she loved, creating a business from the ground up that has since gone on to sell its products internationally.
In this episode, Arianne discusses the importance of community, how to step up from setbacks and just how dogs can change your life.
Street Cred:
Arianne Sackville is the Founder and Director of  Bell & Bone, an Australian Dog food company creating healthier products to promote a happier, longer life for dogs.