Ep 94 – Finding the Next Step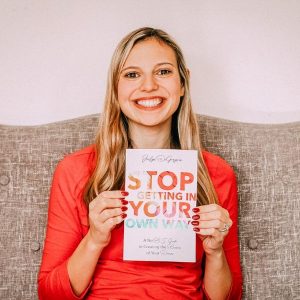 Ep 94 - Finding the Next Step
Too often, the big audacious goals that we set for ourselves can actually make us feel overwhelmed. But as Jaclyn DiGregorio reveals, the key to pushing forward is to figure out your next step and commit to it with fierce passion. Tune in to hear Jaclyn's fascinating story on how she
wrote her best-selling book, 'Stop Getting In Your Own Way.' and how we can take our first steps towards fulfilling our passion.
Jaclyn DiGregorio
At some point, we've all struggled to figure out what our next step in life will be. 
Our next guest is no exception.
In fact, it took a whole lot of trial and error before Jaclyn DiGregorio finally recognised her innermost passion and the steps she needed to take to achieve her big dreams. With a burning ambition and a desire for more in life, Jaclyn took the leap and started her first business at just 21 years old. 
But, as always, success didn't come right away. Instead, it was after two failed business ventures and buckets of doubt later that Jaclyn was finally able to shift her perspective and help others achieve their goals. 
Now, Jaclyn is a best selling author, motivational speaker, and founder of Clarity and Action Consulting, a consultancy based company that helps female entrepreneurs spark their dreams into action. 
In this episode, Jaclyn shares her fascinating story on building grit in the face of failure, getting clear on her purpose, and taking those first steps to fulfil her passion at just 21 years old.
Street Cred:
Jaclyn DiGregorio is the founder of Clarity and Action Consulting which helps female entrepreneurs to push the boundaries and figure out how to achieve their biggest dreams.  Jaclyn is also the best selling author of 'Stop Getting in Your Own Way' and 'The Cusp Method'. She is a Professional Speaker with experience speaking on over a hundred stages in the U.S, and has even been featured in Forbes for her entrepreneurial mindset. Jaclyn also produces her own podcast entitled 'Spark Your Light', available to listen on Spotify and Apple Podcasts.
Highlight Reel:
The importance of getting clear on your purpose and passion [30:20]
How to gain the courage to pursue big changes [35:50]
Jaclyn's very first steps in building Clarity and Action Consulting [38:45]