Ep 62 – A Life Building Imagination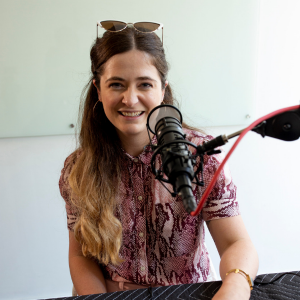 Ep 62 - A Life Building Imagination
While most children grow their imagination playing with toys, Betsy Fore went one further; she grew up inventing them. In this episode, we learn how Betsy fused her passion with earning a living in order to build a life she loves to live, every single day. Betsy is the founder of Wondermento, co-founder of Tiny Organics and 2015 Forbes 30 under 30 honouree. 
Betsy Fore
Ever since she can remember, Betsy has always found solace in tinkering in her garage and bringing imaginative toy creations to life. Luckily, this passion never died; it flourished into adulthood. She soon landed her dream job with leading toy manufacturers such as Mattel and Hasbro, creating anything from Star Wars toys to Polly Pocket dolls.
Nowadays, Betsy continues to use her inventions to spark joy in the lives of others. From transforming Moshi Monsters' digital characters into physical products, or creating the stylish pet wearable, WonderWoof, Betsy's career showcases how we too, can build a life that combines our childhood passion with making move move.
In this episode, Betsy reveals why we shouldn't be afraid to invent what we imagine to reinvent ourselves, her advice to those who feel lost, and her secret to persistence. 
Street Cred:
Betsy Fore was a toy inventor, working with Mattel and Hasbro and even helped turn UK digital brand, Moshi Monsters, into the #1 toy brand. She is also the founder and CEO of Wondermento, a digital company that launched the highly fashionable pet wearable, Wonderwoof. Now, she is the co-founder of Tiny Organics, which aims to re-imagine babies' first meals. All of Betsy's brilliant work had led to her being named Forbes 30 under 30 list and one of the BBC's 100 most inspiring women. 
Highlight Reel:
Betsy's advice to peers who are feeling lost [11:56]
How we can be more persistent [22:53]
How we can juggle our passion with making a living [35:50]