Ep 46 – Stepping Up from Falling Down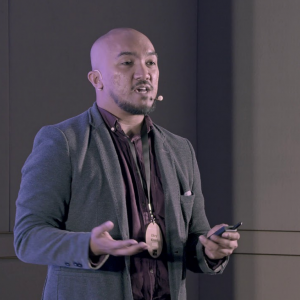 Ep 46 - Stepping Up from Falling Down
In Episode 48, you'll find Zikry isn't afraid to call out the mistakes young entrepreneurs make. While many of us conceal our falls (and their corresponding bruises), Zikry wears his like armor and uses them to project him forward. Two thumbs up. Way up.
Zikry Kholil
A quest for success will always come with a hefty scoop of fear. But, when attempting to scale the tower of success ­– you can't let the fear of falling stop you. In fact, you can let it help you climb even higher. Higher than you imagined.
For today's guest, Zikry Kholil, it was a tremendous fall that enabled him to scale to greater heights. How? Let's find out.
Referring to himself the 'accidental entrepreneur,' Zikry leveraged his globetrotting background, his talent for connecting, and his love for moving speeches to create change. Thus, Incitement was born; a company building solutions and projects that enable people, causes and brands to expand through social impact. Our cup of tea? 100%.
Like many during their formative entrepreneurial years, Zikry made a wrong turn which forced his team to start from scratch. But, instead of letting one fall break him, Zikry took the opportunity to pick himself up and carry on, more determined to do it right. Fellow risk-takers, take note.
Street Cred:
Zikry Kholil is the Co-Founder and CCO of Incitement, a social business and thriving international community with establishments in over 46 countries. His work has earned him a spot in the coveted Forbes 30 under 30 list and he was named as one of the Top 100 World Visionary Leaders in 2016.
Highlight Reel:
Zikry's globetrotting background [1:00]
How he prioritised his travels [10:15]
How he became an accidental entrepreneur [16:32]
How we can build resilience [29:22]
The biggest mistake he's made [37:23]