Ep 238 – The Co-Founder of Overwatch Data on How Gratitude Helps Creativity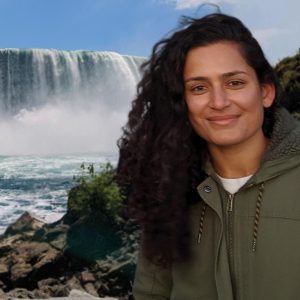 The Co-Founder of Overwatch Data on How Gratitude Helps Creativity
Zara Perumal has always been grateful: of her supportive parents who embraced her love of computer science, to her career opportunities earned at places like Google. But most of all, she was grateful that she got to the position to fully follow and realise her dreams by founding Overwatch Data.
In this episode of Peers2Peers, powered by Shopify, Zara Perumal joins the podcast to discuss the dangers of believing your own hype, the importance of gratitude, and how learning to surf reminded her of the importance of being comfortable being uncomfortable. 
Zara Perumal:
A dedication to one's entrepreneurial spirit is a dedication to moving forward. For many, the decision to found their own enterprise is the next logical step after mastering the traditional job progression. Graduate school, intern at Apple, engineer at Google. This was the trajectory of today's guest, with many more impressive positions achieved along the way. A success in the world of tech and risk assessment, today's guest decided they would trade their comfort and success to take a risk.
And risk is something Zara Perumal knows a lot about, as the Co-Founder of Overwatch Data, an automation service which provides risk assessment to businesses by monitoring global trends. Like all risk, it was a calculated one. She weighed up the importance of the things she cared about with the importance of the things she felt she should be doing. 
In this episode of Peers2Peers, powered by Shopify, Zara reflects on lessons learned in the tech world. On the importance of believing in yourself, but not overhyping yourself, and how surfing reminded her that there's more important things in life than being comfortable.
Street Cred:
Zara Perumal is an MIT graduate, having previously worked at tech-industry leaders such as the NASDAQ, Google, Apple and the Harvard's Belfer Centre where she developed practical cyber security recommendations for state and local election officials as part of the Defending Digital Democracy Project.
In 2022, Zara co founded Overwatch Data, providing global risk detection for companies through the automation of market analysis to predict and detect risks to supply chains and commodities. In 2023, Zara was featured on the Forbes 30 Under 30 Enterprise Technology list.