Ep 218 LONDON TOUR RECAP – Our Peers2Peers Host With a BTS Look at the London Tour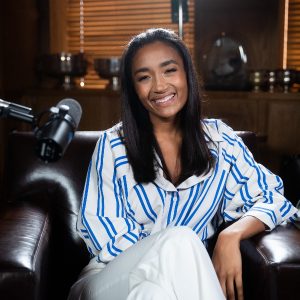 Ep 218 LONDON TOUR RECAP - Our Peers2Peers Host With a BTS Look at the London Tour
Planning a podcast takes work, peers. Planning a podcast across continents and timezones, you guessed it, even more. But sometimes when you're celebrating a five-year anniversary, you gotta. 
In a very special edition of the Peers2Peers podcast, The Peers Project CEO and Founder Michelle Akhidenor  takes us through what has to happen for an enterprise like the London Tour to come together.
From finding the perfect space (The London Edition in Soho!), finding the guests, and hustling together a UK production crew, if you're willing to do the work, it can be done. But you'll need to do your research. And you'll need some videographers there to document the process.
Or rather, Michelle had to do the research. In this edition, she shares her working with you, so if you're thinking about hosting a podcast, or intrigued by inter-hemisphere logistics, this episode will save you some serious time.
Michelle Akhidenor:
The last four weeks of episodes have been very special for the Peers2Peers podcast. They were recorded in the amazing London Edition in Soho, as part of the London Tour, our celebration of five years as industry leaders in the audio space.
Four weeks of work, to celebrate five years takes months of preparation. Finding such amazing guests as:
The bold Stefanie Sword-Williams of Fuck Being Humble;

The intelligent Dr. Ope Adegbulu of Omolola Jewellery;

The experimental Doone Roisin of Female Startup Club; and

The driven Josephine Liang of CauliBox.
Then finding the right space, the right team, and being in the right state of mind to record four podcasts back to back.
On this episode of the Peers2Peers podcast, London Tour host and The Peers Project Founder Michelle Akhidenor expresses how on the day of recording all the hard work actualised and became more than worth it. How five years on, and after some serious pressure, we've recorded some of our best episodes so far. And the importance of celebrating this enormous win!
Peers, we've come so far since recording episode one of this podcast. Thanks so much for coming along with us, as Michelle furthers her entrepreneurial journey in tandem with you. Remember to share your wins. With yourself, and with us.
Street Cred:
Michelle Akhidenor is the CEO and Founder of The Peers Project, a leading Australian podcast agency which launched in 2018. The Peers Project works with visionary brands from Fortune 500s, to venture-backed startups, to help project their values in one of the fastest-growing media spaces.
The London Tour consisted of interviews with a series of London-based entrepreneurs, who shared the trials of their journeys' to success. Recorded in the London Edition in Soho, Michelle shared the stories of Stefanie Sword-Williams of Fuck Being Humble, Dr Ope Adegbulu of Omolola Jewellery, Doone Roisin of Female Startup Club and Josephine Liang of CauliBox.