Ep 215 LONDON TOUR – The Co-Founder of Omolola Jewellery on Decolonialising Jewellery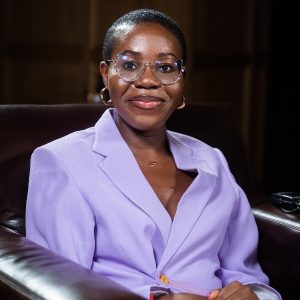 Ep 215 LONDON TOUR - The Co-founder of Omolola Jewellery on Decolonialising Jewellery
For many peers, appreciating that you are enough is one of the most  difficult personal goals to achieve. Even if you're a first generation immigrant who attains a PhD in law, and then goes onto successfully build a brand which unifies a shared history amongst a diverse diaspora through culturally significant jewellery. Even then, you have to be conscious to not let your bad days define your business and your sense of self.
In this episode of Peers2Peers, powered by Shopify, Dr Ope Adegbulu talks us through growing a fulfilling side hustle, rather than a stressful one, and the secret to prioritising your mental health when you're running a business with your sister: get a therapist, get friends who aren't in the same field, and get a cat.
Dr Ope Adegbulum:
The second guest for the Peers2Peers London Podcast Tour is Dr Ope Adegbulum, a first generation Londoner who came to the UK to study law, and even though she has a PhD has achieved even more in the entrepreneurial space.
This transition from academic to entrepreneur had considerable overlap, with both areas demanding a serious time commitment, and both areas dealing in "ideas".
But, and with respect to her academic peers, the main difference for Dr Ope was the ability to see and feel the tangible results of her work on a day to day basis. A process which all entrepreneurs know is enormously rewarding. As an entrepreneur, her decisions and their results provide immediate feedback, whereas in the world of academia comparably important work is subject to a lot of red tape. But entrepreneurial decisions are scarier.
In this episode of Peers2Peers, powered by Shopify, Dr Ope discusses growing her side hustle, learning to stop being too critical and making a clear distinction between failures of business, and failures of self.
Street Cred:
Dr Ope Adegbulu has a PhD in banking, corporate finance, and securities law. In 2018 she started Omolola Jewellery, a Black owned brand born of the desire to pay homage to West African artistry and cultures, which has been featured in British Vogue, Cosmopolitan UK, Glame Africa and Guap Magazine. In 2021, Dr Ope was a Rising Star Finalist in the Black British Business Awards.