Ep 164 – Build The Community You Needed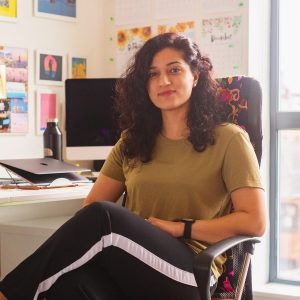 Ep 164 - Build The Community You Needed
Have you ever known that something wasn't for you? Whether it was a new job or a new course, you just knew deep down that you weren't meant to be there? That's how today's guest, Amna Akhtar, the Founder of non-profit organisation, GirlDreamer felt when she dropped out of university after just one week.
Feeling pressured by her immigrant parents to take a more traditional path, Amna followed her heart and left her nursing degree behind… aiming to help people in a different way.
In today's inspiring episode powered by Shopify, Amna shares how her environment shaped her life, the issues with today's toxic hustle culture as well as the value of listening to your inner voice to guide you to new heights.
Amna Akhtar:
Fights outside her bedroom window. The unnerving pressure of immigrant parents. Never hearing quiet, ever.
This was Amna Akhtar's experience of growing up in the British city of Birmingham. As the youngest child of Pakistani immigrants, Amna was expected to marry early and become a doctor. With the weight of the world (and her parents) on her shoulders, Amna applied to study nursing but after just one week she dropped out.
Always the entrepreneur, Amna knew she could help people just not in the traditional ways. Armed with her fighting spirit and access to Google and YouTube, Amna created GirlDreamer, a non-profit organisation in the UK that's helping other young women of colour to achieve their dreams.
In today's Peers2Peers episode powered by Shopify, Amna shares how her childhood in Birmingham shaped her career, what can happen when you build the community you needed as a child and how to deal with the doubters in your life.
Street Cred:
Amna Akhtar is the co-founder of GirlDreamer, a non-profit organisation based in the UK that's helping young women of colour to develop personally and professionally. Amna, a second generation Pakistani immigrant is now a Forbes 30 Under 30 listee and a TedX Speaker who's tackling social inequality and helping a new generation to live their dreams.