Ep 155 – Building The Risk Muscle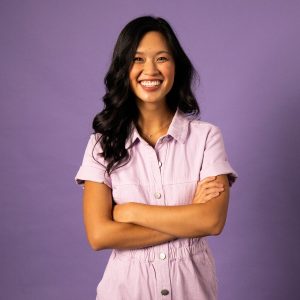 Ep 155 - Building The Risk Muscle
Has your entrepreneurial journey ever felt like being on the edge of a cliff?
You can either stay put in your comfort zone or… jump.
Jumping is exactly what today's Peers2Peers guest, Nicole Liu, did when she founded Kin Fertility.
The first subscription service for the contraceptive pill, Kin Fertility is now helping thousands of women navigate the turbulent waters of reproductive health.
In this heart-warming episode, Nicole shares why an incorrect reproductive diagnosis spurred her to start breaking down fertility taboos and how one chance conversation changed her life path forever.
Nicole Liu:
Nicole Liu had everything.
Or at least that's what she thought.
Undertaking a prestigious scholarship and with investment banking internships on her polished resume, 24-year-old Nicole had a clear path laid out ahead of her.
But like many twenty-somethings, Nicole wanted more and (in all honesty), was afraid of the predictable path she found herself on.
It wasn't until a chance encounter that Nicole took a leap of faith and launched herself into her greatest adventure yet; Kin Fertility.
In this Peers2Peers episode, we sit down with founder of Kin Fertility and Forbes 30 Under 30 recipient, Nicole Liu to discuss why she wants to normalise conversations around reproductive health, how she built up her risk-taking muscles and why we should be leaning into imposter syndrome.
Street Cred:
Nicole Liu is Forbes 30 Under 30 recipient and the founder of reproductive health platform Kin Fertility. A subscription service with a mission to normalise women's health in Australia.
An alumni of the University of Texas, University of New South Wales and Cambridge, Nicole previously worked as a business and venture capital analyst before jumping into the world of tech start-ups.