Ep 153 – Spiralling Upwards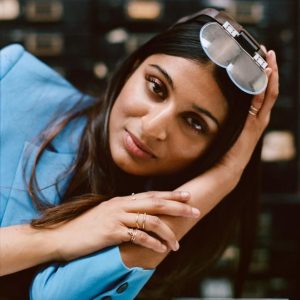 Ep 153 - Spiralling Upwards
How has your network helped you in your entrepreneurial journey?
For today's guest it was a cold call to Emma Watson's stylist that changed the course of her business journey forever.
Now spotted on the likes of Nicole Kidman, Serena Williams and Michelle Obama (amongst others), Harvard University student Shilpa Yarlagadda is creating beautiful jewellery with an incredibly important mission.
Powered by Shopify, today's guest is the brilliant Gen Z founder of Shiffon Co. who shares why multitasking isn't worth the hype and how you can't be what you can't see.
Shilpa Yarlagadda:
What do Michelle Obama, Nicole Kidman and Serena Williams all have in common?
Aside from being powerful and talented women, they've also all been spotted in Shiffon Co. jewellery.
It was during her freshman year at the prestigious Harvard University (while also interning at NASA and Microsoft – casual!) that Shilpa Yarlagadda came up with the idea for Shiffon Co.
As well as being beautifully designed, Shiffon Co. jewellery is funding women entrepreneurs – one pinky ring at a time.
50% of profits from their Duet Pinky Ring goes straight into supporting women in business. So far, Shiffon Co. has funded 11 companies and is only going up from there.
In today's episode, Shilpa shares how her rings are providing mentorship and startup capital to young women, why her experience as a woman of colour in the white, male dominated space of Silicon Valley shaped her journey, and why we should all be supporting each other to spiral upwards.
Street Cred:
Shilpa Yarlagadda is the founder of ethical jewellery brand Shiffon Co. and is a senior student at Harvard University.
The Indian-American entrepreneur donates a portion of profits from Shiffon Co. to the non-profit arm of her business, Startup Girl Foundation. Providing capital and mentorship to female entrepreneurs.
Shilpa interned at NASA and Microsoft Research and also made the Forbes 30 Under 30 list in Art and Style.