Ep 144 – One of Oprah's Favorite Things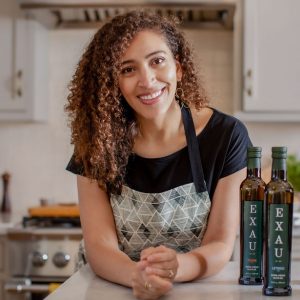 Ep 144 - One of Oprah's Favorite Things
When today's guest, Skyler Mapes visited her now-husband's parents in his hometown of Le Castella Calabria, she also met their orchard of olive trees – while not as personable, they were just as intimidating. Upon returning to Texas, Skyler couldn't forget the taste Calabria had left, so she decided not to leave it and relocate to Italy. 
In 2017, EXAU Olive Oil was born – a family-owned direct-to-consumer olive oil brand. It's good, really good, it's one of Oprah's Favorite Things, and soon-to-be yours.
Skyler Mapes
We're ingrained to believe grandness equates to success. That colour creates attention and social media catapulted our voices. But before the 'brand toolkit' was born and influencer's weren't even in the womb, brands were built. 
This 'back-to-basics' ideology has become to re-emerge in the midst of our digital delirium, as more and more people reconsider their own consciousness and that of the brands they follow. EXAU Olive Oil may not be a brand you have heard of, but it's a brand that doesn't demand to be noticed.
Founded in 2017 by Skyler Maples and her husband Giuseppe, the small-mill production sees the couple mill, bottle, label and export everything themselves, on Giuseppe's family orchard in Le Castella, Calabria.
Like all good things, word soon spread and this quaint production now has a waitlist, with no plans to make it a commercial conglomerate many entrepreneurs would quickly abandon for.
Commerciality and consciousness run deep in today's interview, as Skyler shares her grounded approach to success. At a time where start-up culture has become saturated and misguided by sales and PR, EXAU is a reminder that success is self-defined.
Street Cred:
Skyler Maples is the co-founder of EXAU Olive Oil and one of the only Black female olive oil producers in the world. Since its inception in 2017, EXAU has been recognised as a leading olive oil brand, with a waitlist to purchase. Skyler is a Forbes 30 Under 30 alum.