Ep 139 – The 'Crisis' In Finding An Identity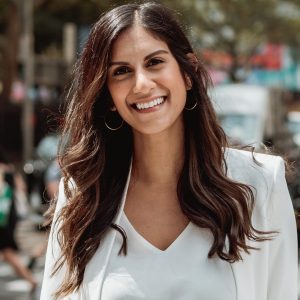 Ep 139 - The 'Crisis' In Finding An Identity
This episode is all about identity: what it means, why we're fixated on 'solving it' and if we should even try to. Joining us to share her journey with identity is the Founder and CEO of Indian-inspired skincare brand Aavrani, Rooshy Roy.
With humility and humour, Rooshy reflects on the confusion she felt as a teen trying to navigate cultural expectations as an Indian and American woman. Why rebellion in school is often a sign, not a write-off, and how we can gain more clarity on who we really are as individuals.
Rooshy Roy
'Be yourself' always seemed like an inconspicuous phrase to Rooshy Roy growing up, until experience showed her that it actually meant something. 
It's easy for us all to become someone we don't recognise, to shape ourselves in accordance to somebody else's expectations rather than expecting more from ourselves.
Expectations are at the heart of today's episode as we reflect on the ways insecurity and romantic optimism lead us to  believe our  identity is something to 'solve,' rather than something to evolve with.
Sharing her experience and wisdom on the topic is  Aavrani Founder and CEO, Rooshy Roy.  At the centre of a Indian-inspired skincare brand, Rooshy works directly in a space that for decades has convinced women (and men), they need to wear more, to feel more. It's precisely the message that Rooshy is working to reverse.   
Beverages better be at the ready for this one, as we chat cross-cultural expectations, why time and attention create destiny, and how status quo's aren't something to look to  but run away from.
Street Cred:
A first-generation Indian-American, Rooshy Roy used to make skincare at home with her mother using ingredients like turmeric and almond oil. She started Aavrani in 2017 to offer clean, effective cosmetics rooted in ancient beauty rituals. Since then, Roy has raised $1.7 million from First Round Capital and General Catalyst. She is a Forbes 30 Under 30 listee, with an MBA from The Wharton School and a Bachelor of Science from Indiana University.