Ep 125 – Work To Change, Not To Win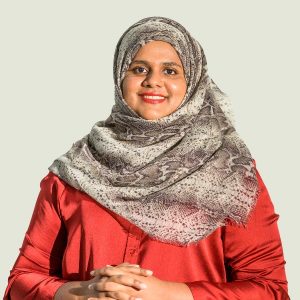 Ep 125 - Work To Change, Not To Win
Safaath Ahmed Zahir is a leading women's rights activist in the Maldives and the founder of Women and Democracy, a non-profit organisation promoting gender diversity in the workplace. In this inspiring episode, Safaath reflects on her upbringing in a country resisting the call of democracy. With insight and hope, Safaath paints a path towards female empowerment and economic independence through her work, and challenges us to see life as a fight to right a wrong, rather than a game of win or lose.
Safaath Ahmed Zahir
Even if you are a girl, you don't need to feel any less. Those were the words instilled in a young Safaath by her mother. Growing up in the republic of Maldives, Safaath understood early on that the world was full of life but only most of that life was reserved for men. 
Inspired by her mother's determination, Safaath set forth to enrich her life through education, travelling abroad to study finance and economics. With a newfound understanding of economic independence, Safaath returned home to create Women and Democracy, a non-profit organisation advocating for women's independence, so they don't have to leave the country to find it. 
In this intimate interview, Safaath shares her early childhood memories, her drive to change the world and why we must remove our 'win or lose' mentality if we are to get there.
Street Cred:
Safaath is a leading women's rights activist in the Maldives. She founded the non-profit organisation Women and Democracy to help promote gender diversity in workplaces across the country. Last year, she received the Queen's Young Leaders Award at Buckingham Palace for taking the lead in transforming the lives of others and making a lasting difference in her community. In 2017, she was recognised by Forbes as a leading social entrepreneur in the 2017 Forbes 30 Under 30 list.