Ep 116 – Jobs Aren't All Dreams, They're Work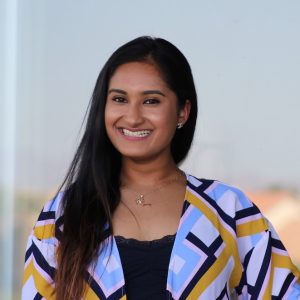 Ep 116 - Jobs Aren't All Dreams, They're Work
On paper, Nikita Gupta's foray into the professional world seems seamless. With a degree in Computer Science from Cornell University, a place on the coveted Forbes 30 Under 30 list and the co-founder of female tech start-up Symba, Nikita's transition from school to work looks ideal (and it is). But her entry to technology wasn't inspired through gaming or innovation, instead it was her lifelong passion that took her digital: food. In this episode, Nikita discusses the influence of her Indian heritage, the importance of not landing a dream job as your first job and how comfort zones are at the centre of great work.
Nikita Gupta
Many of us spend our teenage years dreaming big. We think our work will look lavish and our first job idyllic but Nikita Gupta thinks we should think differently. Your first job won't be the dream job. It won't be easy and it certainly won't be lavish but it will be important. It's this kind of pragmatic thinking that earned this Computer Science grad a place in on coveted Forbes 30 Under 30 list as the Co-Founder of Symba: a female tech startup helping companies manage and design remote internship placements.
While you may think Nikita's rational mind and head-down attitude is what led her into the tech field, it was her passion for cooking, food and culture that sparked it all. While others were studying, Nikita was busy cooking with her mother. The daughter of Indian immigrants, Nikita grew up in New Jersey, sitting on a kitchen counter watching her mother cook, before taking the utensils for herself.
Before long, she launched a website, sharing her cooking with family and friends and it was here that she realised the limitless power technology offers us to instantaneously share the unimaginable. With her passion keeping her grounded and her work keeping her focused, Nikita used the power of her hobby to fuel her career, rather than relying on ego or status.
In this episode, Nikita shares the importance of change, the dark side of business and the fight for women in STEM. 
Street Cred:
Nikita Gupta is a tech Entrepreneur, Forbes 30 Under 30 Alumni and currently the co-founder and CTO of Symba, a platform to help companies manage and design remote internships. Whilst completing her degree in Computer Science from Cornell University, Nikita launched Girls Who Code in Ithaca, NY and was heavily involved with Women in Computing. She has previously worked with Apple Inc., Bank of America Merrill Lynch, and a few startups as a software engineer.